Speaking Lines
Speaking Lines
by Balpreet
The Hindustan Times
July 1, 2001
For this non-resident Indian, home is where he can draw what he likes, as he likes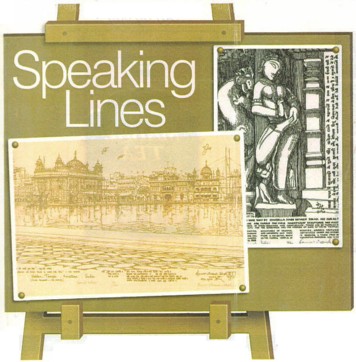 [Imaging: Malay Karmakar]
Here's a painter sweeping that red-drenched brush up that wall. The trail it's leaving is losing more and more form. Abstract they call it. They also clap – loud, raining interpretations left, right and centre. That's expression – each unto his own.Then there's this other chap. He also draws. Absolute, they call it. In pen, pencil, ink… You look once, twice and the third time you know you'd return to look the fourth time and more. Not to interpret or understand. But to just partake – of the sheer intrigue, the detail that ink-spouting lines can leave behind.
Saying that Indianapolis (US)-based Kanwal Prakash Singh is an architect, is just beginning to trace his roots with his muse. He was born in India, educated across Punjab University and IIT, Kharagpur, before leaving for the University of Michigan to study further in architecture city planning. The 55-something K. P. Singh has been flapping his wings for many years now – drifting across countries, cultures and pausing the longest in front of monuments, buildings that have "something tied up back in time… Harking back to the spirit and mores of eras gone by. Such experiences of history are treasures in themselves – which is why I feel they should restored," says Singh.
So he draws – thin lines, sometimes racing, sometimes resting, turning, curving at other times – sensually, subtly, before bursting forth heritage – refurbished for many years to come. And on the sides of these forms, run stories of these monuments – in Devnagari, Gurmukhi or English. The intricacy is what gets to you and then never really leaves.
On the whys, hows of it, Singh says: "My muse bears my thoughts, ideas and ideals, enriching my understanding of the creativity around – rousing me to create my own reactions to it."
And always, it begins with awe. Swirling all around him, frothing at his insides – when he sets eyes on an incredible piece of architecture. "I visualise the hands that created it, the imagination that shaped it, to reflect its era! Absolutely stirred, then I begin my drawings – returning to that building, capturing it on my lens, studying it, reading up on it, before finally drawing my interpretation of it."
As we wander along his lines, the trail is suddenly thick with the Spiritual. Or maybe, 'the spiritual' is indeed the 'most passionate', and therefore its structures most intriguing! The Golden Temple, St. Peter's in Rome, ancient temples of South India, cathedrals of Europe, Buddhist temples in the Far East, and national monuments in America are what have stirred him the most.
As his black and sometimes greying lines explore the white, sprouting wiry forms, we wonder at the black and white? Why not the more natural hues of being? "Black and white talk of mystery to me. My recent drawings do have planes of colour, mainly for highlighting the architecture or embellishing the background. But I am most comfortable with black & white," Singh says.
Which is also one reason why USA is his home. "India fashions magnificent arts and crafts in dazzling colour. So, black and white drawings tend to lie low. Here, in the USA, art appreciation and acquisition is a way of life, with endless corporations, businesses promoting, purchasing original art."
But then isn't it also cash-driven? So what about responses to such finer sensibilities, his exhibitions? "People here seem intrigued by the simplicity, sensuality of line, imaginative interpretation, intricacy of architectural details. And they enjoy reading these scripts. And then, art and architecture is suddenly fascinating many across the globe, thanks to tourism, technology media, global economy."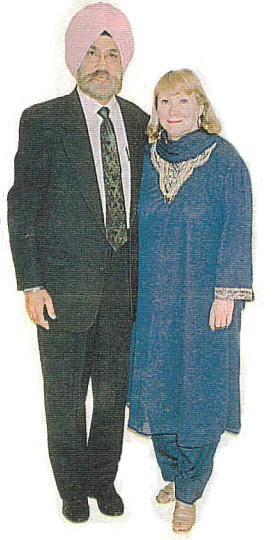 Perhaps that's the reason why he married an American. A smile comes through: "I met Janice at the University of Michigan. She is an ardent admirer of Indian culture, and has embraced Indian ways. She has traveled thousands of miles across India. In fact, she loves to call herself a student of 'all things Indian'. And you know what, she believes she was this Sikh princess in her previous life!" While their sons Jay Prakash and Rabindra Paul go about making careers in science, Singh continues to run his company – K P Singh Designs, holding exhibitions, handing down his bit to the socio-cultural fabric of Indianapolis.
And the efforts have been noticed and rewarded. With University of Michigan's Daverman Merit Award in Architecture, many Purchase prizes, merit awards, the Sagamore of the Wabash (highest civilian award) by the State of Indiana, the International Citizen of the Year award by the International Centre … the list runs long. His art has reached out to many – by way of 51-one-man shows, five annual outdoor art fairs, besides being lapped up by corporations for gifts, fund-raising et al. "I feel moved when Americans acquire my Indian prints, it feels as though a part of my Indian heritage is traveling to another home."