Poetry in Pen and Ink Drawings
Poetry in Pen and Ink Drawings
INDIA JOURNAL (Khazana Section)
15605 S. Carmenita Road, Suite 107
Santa Fe Springs, CA 90670-5648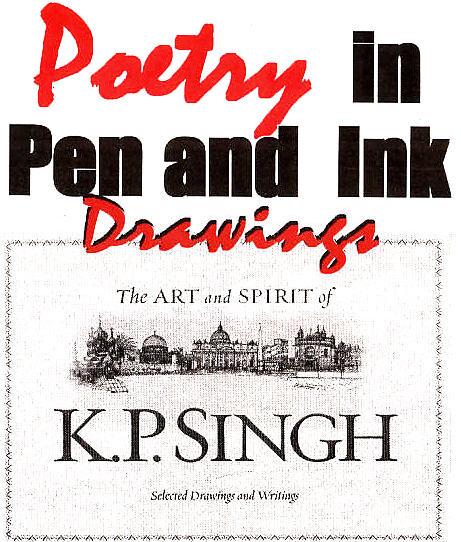 December 12, 2003
K.P. Singh is one of the best known and most prolific Indiana artists in the last half century, essentially becoming Indiana's artist-in-residence as he's captured the architectural highlights found across the state. His classic pen-and-ink renditions of college campuses, monuments and great buildings are prized by collectors and museums alike.
The coffee-table volume, K.P. Singh's first, released in October has the introduction written by Senator Richard G. Lugar of Indiana. It offers more than 200 beautiful pen and ink drawings of historic and architectural sites from across the U.S, India, Far East and Europe. Embellishing these splendid works of art are his thoughts on nature and spirit, adding another layer to the reverence he brings to his subjects. The exquisitely detailed drawings showcase Singh's abilities to render both the fine points as well as the grand vision of landmark buildings around the world.
"My artwork reflects my cultural and spiritual inspirations. The artistic legacy of master builders and craftsmen in different cultures stands as a living testimony of the high achievements of man over the centuries. We must create a place of honor for it in our national fabric," says Singh. "I hope that this book will inspire others to rediscover, know and enjoy their communities."
The book is dedicated to his father Jogindar Singh who the author describes as "a scholar, an enlightened teacher, and a noble spirit," who continues to be a guiding light in his life. The dedication also includes a poem penned by the author titled- 'Reflections on Beloved Darjee.'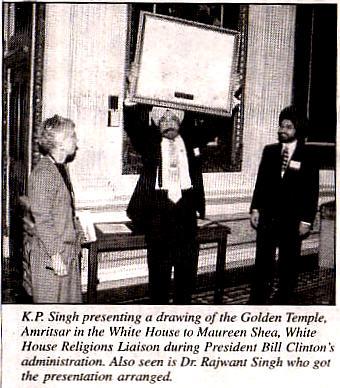 The book includes gorgeous renderings of noted landmarks, national parks and monuments and holy sites like: The Taj Mahal in Agra, The Golden Temple in Amritsar, The Statue of Liberty, the Lincoln Memorial in Washington, D.C., The Notre Dame Cathedral in Paris, The Dome of the Rock in Jerusalem, and St. Peter's Basillica in Vatican City and many more.
Singh thinks human genius is reflected in architecture. "Architecture is not only space, brick, mortar and stained glass," he says. "I think of architecture as a living entity. I think of it as a building that has a spirit and character, a sense of its own. "I'm not standing under the great dome of Michelangelo in St. Peter's Square in Rome and thinking, 'This is a Catholic church, and I'm a Sikh.' I'm thinking, 'What grandeur, what vision, what beauty, what daring and what imagination,' and so is everyone else."
His book contains drawings of 45 courthouses, including the Johnson County Courthouse, along with 200 other drawings and 11 photographs. More than 150 drawings are from Indiana.
Also included in the book are some of Singh's thoughts, prayers, reflections, poems and essays on architecture, culture, matters of spirit and thoughts on historic preservation. He describes American architecture as daring and simpler than the architecture of ancient and Middle Age European countries. "We have gone beyond displaying our pioneering spirit and are setting new markers in innovation," he says.
"All over the country, buildings make a statement about power, strength and confidence, as the World Trade Center did," he says. Architecture that looks simple, such as Clowes Memorial Hall in Indianapolis, as compared to an opera house in Paris, for example, is strong and functional with the acoustics it offers. "We can embellish these structures if we want to, but it is the space that is created that creates an aura of our soul," Singh says.
Yet he is an advocate for preserving the architecture of the past.
"I have looked at the heritage of an ancient country like India and wonder if we were constantly looking for something new, these buildings that are 1,500 years old would have never survived," he says.
He says historic buildings should not be allowed to deteriorate or disappear, either by design or neglect. Singh says, whenever feasible, owners should take a second or third look at a deteriorating building to see if it can be preserved for another use, so years from now, people will say, "That's the journey of our ancestors, that's where they came from, that's what they did, these are the things they cherished."
When K.P. Singh first came to Indianapolis in 1967, he was fresh out of graduate school at the University of Michigan and eager to get started in his chosen profession, urban planning.
He certainly had no aspirations to be an artist.
But three years after Singh was hired as a senior urban planner for the city's Department of Metropolitan Development, that changed.
He did a drawing of Downtown's Union Station that detailed its architectural splendor. It was used in a brochure championing preservation of the historic structure, a campaign that ultimately was successful.
The book is Singh's celebration of more than 30 years as an artist and cultural commentator. Those are roles it seems he was destined to assume.
Kanwal ("lotus") Prakash ("enlightenment") Singh ("lion") was born in 1939 in Jaranwala, India (which is now part of Pakistan). As a boy, he sculpted gods and goddesses from plaster and balsa wood, and then went on to study drawing in high school.
He received a B.A. from Punjab University, and then a degree in architecture from the Indian Institute of Technology in Karagpur before coming to the United States to do his Master's work at the University of Michigan.
When he arrived here, he was truly a stranger in a strange land. In the late 1960's the city was far less diverse, so a young Indian man stood out from the crowd – all the more so because, as a member of the Sikh religion, he wore (as he still does) a turban.
But his love of architecture and his emergence as a talented artist quickly earned him accolades and opportunities to continue drawings.
"After I did my drawings of Union Station, someone suggested that I should do a set of 12 more," he says. "I asked for suggestions for other buildings I should draw; then I did the set of 12. They were received quite well."
So well, in fact, that by 1972, Singh was ready to put aside his career in urban planning for one in art. In the years since, he has created intricate pen-and-ink images of such other landmarks as the Scottish Rite Cathedral, the Soldiers and Sailors Monument, Christ Church Cathedral and the Indiana Capitol.
The concept for the book came about, says Singh, because many collectors of his work (who range from individuals to corporate art buyers) kept asking him for one. "The idea of doing a book has been building for a long time," he says.
He began working on the project in earnest in early 2002. The result is a 50-50 mix of images and text, with a focus on the spiritual importance of art and architecture to human cultures.
Rather than doing a book that simply reproduced samples of his work with descriptive captions, Singh chose to embellish his art with essays and poems that reflect upon and celebrate human experience.
For example, he says, with images of 46 Indiana courthouse in the book, he decided to explore why we have courthouses and what their roles are in society. "I didn't want to just write about who built each courthouse and what its style of architecture is. I wanted to talk about the things that make courthouses important to our lives."
He also wants people to appreciate the contributions that architecture has made to cultures throughout history.
K.P. Singh is the founder of K.P. Singh Designs which started in 1972. He has made his home in Indianapolis since 1967 where he lives with his wife, Jan.