Press Release
FOR IMMEDIATE RELEASE
Contact: Howard Cohen
(513) 861-4045
hcohen@emmis.com

THE ART AND SPIRIT OF K. P. SINGH
SELECTED DRAWINGS AND WRITINGS
By K. P. Singh
With an introduction by
Senator Richard G. Lugar, R-Indiana

"His style has been influenced by the Old Masters. He presents his subjects in close-up, highlighting detail and splendor, challenging the viewer to explore the spirit of the building's original creators. Sensuality of line, texture, landscaping and intricate architectural details, interesting spatial arrangements, script as an integral element in design and an intensity of line and form are hallmarks of the Singh artwork."– American Artists Magazine
K.P. Singh is one of the best known and most prolific Indiana artists in the last half century, essentially becoming the state's artist-in-residence as he's captured the architectural highlights found across the state. His classic pen-and-ink renditions of college campuses, monuments and great buildings are prized by collectors and museums alike.
THE ART AND SPIRIT OF K. P. SINGH (Emmis Books, $40.00, October) offers more than 200 beautiful pen and ink drawings of historic and architectural sites from across our country and around the world. Embellishing these splendid works of art are his thoughts on nature and spirit, adding another layer to the reverence he brings to his subjects. The exquisitely detailed drawings showcase Singh's abilities to render both the fine points as well as the grand vision of landmark buildings around the world.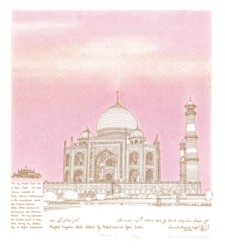 "My artwork reflects my cultural and spiritual inspirations. The artistic legacy of master builders and craftsmen in different cultures stands as a living testimony of the high achievements of man over the centuries. We must create a place of honor for it in our national fabric," says Singh. "I hope that this book will inspire others to rediscover, know and enjoy their communities."
THE ART AND SPIRIT OF K. P. SINGH includes gorgeous renderings of noted landmarks, national parks and monuments and holy sites like:
The Taj Mahal in Agra, India
The Statue of Liberty in New York harbor
The Lincoln Memorial in Washington, D.C.
The Notre Dame Cathedral in Paris
The Dome of the Rock in Jerusalem
St. Peter's Basilica in Vatican City and many more.
K.P. Singh is the founder of K.P. Singh Designs and specializes in pen and ink drawings of private residences and public institutions and his works are represented in many private and public collections throughout the world. He is also a regular contributor to the Indianapolis Star's Focus on Faith column and other publications. Educated in India and the University of Michigan, he has made his home in Indianapolis since 1967 where he lives with his wife, Jan. This is his first book.
THE ART AND SPIRIT OF K. P. SINGH
By K. P. Singh
Emmis Books * October 2003 * $40.00
Hardcover * 240 pages * ISBN 1-57860-120-7

Emmis Books, a division of Emmis Communications, aims to become the premiere publisher in the Midwest. Founded in 2003 in Cincinnati, Ohio.