More Info
This coffee-table volume was released nationally in October, 2003 by Guild Press Emmis Publishing. The Introduction to this book is written by the distinguished U.S. Senator Richard G. Lugar of Indiana.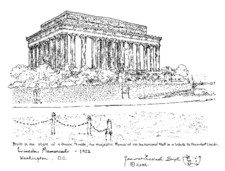 The book offers over 200 pen and ink drawings and a few photographs of historic and architectural sites and places. The images include Indiana courthouses, colleges, scenes, and historic and cultural treasures, sacred "cathedrals", architectural landmarks, and monuments from many places around the world.
The text touches many facets of human spirit and experience. The essays and poems invite the reader to enjoy, learn, explore, preserve, enhance, and appreciate the world and wisdom of ages in all its colorful richness and diversity, wonder and mystery, and tradition and creativity. The book offers an attractive presentation of images and writings in nine broad sections.
The writings are universal in nature and spirit, offering rich imagery, reflections, introspection, and personal prayers, and an enthusiastic celebration of the universal threads that transcend and bridge all humanity. A great effort is made to make this book meaningful for all ages, genders, and communities.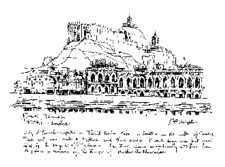 Many may find echoes of their own inspirations and inner stirrings mirrored in the writings; others may see rich spectrums of cultures and creativity in the architectural images. The book is a window to my soul, a tribute to the human spirit. The focus of this book is to raise awareness about matters of spirit and preservation of our collective architectural heritage. I hope that this book will enrich and strengthen your commitments, ideas, and ideals that best reflect your spirit.
This book is a unique gift for friends, colleagues, public officials, fundraising events, schools, and libraries. The book offers many interesting images from around the world and prayerful meditations and perspectives about life and spirit.
Singh is an artist whose reputation extends far beyond the state of Indiana. His intricate, rapturous pen and ink drawings, which have the quality of nineteenth centurgy engravings, are of famous buildings from India to Illinois. Critics have praised him: tens of thousands of admirers have his drawings of well known colleges and universities, church and public buildings from around the world. Now for the first time, he has chosen the best of his work for a large format, four-color celebration of much of his collection. His own meditations from published and unpublished works accompany the drawings and some Singh photos that deepen the spiritual dimensions of this remarakable book.– Nancy Baxter, Editor Guild Press