Bio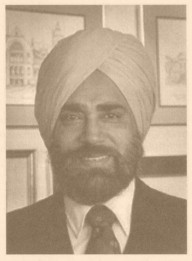 KANWAL PRAKASH ("KP") SINGH
EDUCATION
Bachelor of Arts, Punjab University, India '58
Bachelor of Architecture (Honors), Indian Institute of Technology, Kharagpur, India '63
Merit Scholarship, IIT-Kharagpur '58-'63
Master of Regional Planning, IIT-Kharagpur '64
Graduate Fellowship, IIT-Kharagpur '63-'64
Master of City Planning, University of Michigan '66
Teaching Fellowship, School of Architecture and Design, U of M '65 -'66
Daverman Merit Award in Architecture, U of M '65
Honorary Doctorate of Humane Letters, Butler University 2017
MEMBERSHIPS
American Planners Association (former)
Amnesty International, USA
Arts Alliance Indiana
Asian American Alliance
Brooke's Place for Grieving Young Adults – Advisory Board
Butler Center for Faith and Vocation – Advisor
Faith Learning Initiative (CTS) 2001-2008
Historic Landmarks Foundation of Indiana
Hoosier Salon Patrons Association
India Association of Indianapolis
Indian Institute of Architects (former)
Indiana Artists Club, Inc.
Indiana Artists Craftsmen, Inc.
Indianapolis Art Center
Indianapolis Museum of Art
International Center of Indianapolis, (Founding Member, President '74-75)
Kaur Foundation
Multi Ethnic Indiana
Marion County Mental Health Association
National Trust for Historic Preservation Sikh Council on Religion and Education
Race & Cultural Relations Leadership Network (2002-2012)
Sikh Satsang of Indianapolis
EXPERIENCE
Intern, J.K. Chowdhury, Architect, Chandigarh, India '61-'62
Planning Assistant, Punjab Planning Commission, India '63
Planning Assistant, United Nations Project for the Government of the Sudan, Kharagpur, lndia '63-'64
Assistant Planning and Research Officer, Technical Advisory Committee to DVC, Kharagpur, India '64
Assistant Planner, Consultative Practice Committee, Kharagpur '65
Arrived in USA '65
Teaching Fellowship, Department of Architecture, University of Michigan '65-'66
Urban Designer-Planner, Crane & Gorwic Associates, Detroit, '66-'67
Senior Urban Planner, Department of Metropolitan Development, Indianapolis '67-'72
K. P. SINGH DESIGNS – specialization in fine art and design – since '72
Lecturer, IUPUI – Indianapolis '72
Mr. Singh has been a guest speaker to many clubs, organizations, radio and television talk shows. He is a guest writer for The Indianapolis Star and other ethnic print and online publications.
Contributing Editor, Indic Magazine, Chicago, '75-'76
Travel: Argentina, Belgium, Canada, England, France, Hong Kong, India, Japan, Italy, Lebanon, Singapore, Switzerland, and Thailand
Singh artwork and photography has been featured and discussed in: Anderson Journal; Business Week; India Abroad; India Journal; India Today; India Tribune; India West; Indian Architect & Builders; Indiana Architect; Indiana Arts Commission Directory; Indiana Division of Tourism's SceniCircle Drives brochure; Indiana Magazine; Indianapolis At Home Magazine; Indianapolis Magazine; Indy Downtowner; Indy International; Journal Review, Crawfordsville, IN; Kokomo Tribune; Lafayette Journal and Courier; Rochester Sentinel, Rochester, IN; the 1980 Decorator's Show House Magazine; The Arts Magazine (of the Indianapolis Junior League); The Courier Times, New Castle, IN; The Door Illustrated, Door County, WI; The Indianapolis Star and News; The Marion County Medical Society Bulletin; The Muncie Star; The Republic, Columbus, IN; The Saturday Evening Post; The South Bend Tribune; The Spokesman Weekly, New Delhi, India; Topics Newspapers; Wabash Plain Dealer Newspaper; Peopling Indiana: The Ethnic Experience; Response Magazine, N.Y.; Butler University, Greater Indianapolis Progress Committee, Historic Landmarks Foundational-'71 NATO Mayor's Conference; Indiana State University; Indiana University-Purdue University at Indianapolis; Indianapolis Symphony Cultural Calendar; Marian College; Martin University; Saint Mary of the Woods; Wabash College; University of Indianapolis; and many churches, institutions, and civic publications.
EXHIBITS
Mr. Singh has exhibited in the following regional and state shows: 'Round the Fountain Art Fair; Broad Ripple Art Fair; Celebration of Arts Exhibit at the Jewish Community Center; Gold Coast Art Fair-Chicago, IL; Hoosier Salon; Indiana State Fair; Indianapolis 500 Art; Invitational Indiana Artists Show at the Indiana State Museum; Penrod Art Fair; Talbot Street Art Fair; Three Rivers Festival of the Arts; Tippecanoe Regional Exhibit; Wabash Valley Regional; Whitewater Valley Regional; Smithsonian Sikh Heritage Gallery.
One-man shows since '71: In Indianapolis – Abrams Gallery, All Souls Unitarian Church, American Fletcher National Bank, Back Home Indiana-Circle Center Mail, Butler University, Circle Theatre-Symphony Arcade, Clowes Hall, Columbia Club, Editions Ltd., Hobart Gallery, Hoosier Salon, Indiana Bankers Convention, Indiana National Bank, Indiana Repertory Theatre, Indiana State Tourism Conference, International Center of Indianapolis, Jeanne Gallery, Jefferson National Life Insurance Company, Jewish Community Center, L.S. Ayres Company, Lazarus, Lion's Gate, One Keystone Crossing, Peoples Bank and Trust, Victorian Society of America Conference, Wm. H. Block Company. Around Indiana: Guyer Opera House, Lewisville; Honeywell Foundation, Wabash; Hospitality Center, Columbus; Juhl Advertising, Elkhart; Manchester College; Public Library, Kokomo; Taylor University; Wabash College; Washington Gallery, Frankfort.
AWARDS AND RECOGNITION
Fine art exhibitions and art fairs in drawing and photography: Indian Institute of Technology – Kharagpur, Indiana State Fair, Hoosier Salon, Art for Religion, Indianapolis Chamber of Commerce, Three Rivers Festival, Broad Ripple and 'Round the Fountain Art Fairs, Business for the Arts, 500 Art Festival.
Use of artwork for special events, promotions, fund-raising: Butler University, Greater Indianapolis Progress Committee-Bicentennial Recognition, Historic Landmarks Foundation – '71 NATO Mayors Conference, Indiana University Law School, Indianapolis Symphony Cultural Calendar, Marian College, University of Indianapolis, Franklin College, Indiana State University, Saint Mary-of-the-Woods, Wabash College
Art Illustrations: Indianapolis Memories – Festival Cookbook '97
Major Awards and Honors:
TRACI (To Recognize the Advancement of Culture in Indianapolis) Award '78 & '79
Fadley History Award-Marion County Historical Society '88
Sagamore of the Wabash – State of Indiana '92
International Citizen of the Year – International Center of Indianapolis '95
Achievement Award – Punjabi Cultural Society, Chicago '96
Event Co-chair – Grand Bazaar India – Healthnet '95
Co-Producer & Consultant – "Tapestry of Our Culture" video – Time Warmer Cable '97
King of the World Exhibit – Indianapolis Museum of Art '98
Event Co-Chair – Rangeela Punjab – Sikh Satsang of Indianapolis '99
American Dreamers – Indianapolis Business Journal '00
Award of Excellence in Arts – Asian American Alliance '02
Book Publication: "The ART and SPIRIT of K.P. SINGH" '03
The Indianapolis Star – INTouch Editorial Board Member '04-'05
Miri Piri Award (The Sikh Heritage Foundation of California) '06
The Sikhpoint Calendar – FCSI '07 '11
Men of Distinction – Indiana Minority Business Magazine '08
Gold Star Service Award – National Council of International Visitors '09
Dr. Bhagat Singh Thind Community Empowerment Award (SALDEF) '10
Focus on Creativity Award – SikhLens/SikhPoint '10
Sarah Lewis Lifetime Achievement Award – United Way of Central Indiana '10
Wilbur Peat Award for Outstanding Contribution and Appreciation of Indiana's Architectural Heritage (Society of Architectural Historians) '11
Spirit of Baisakhi Award – The Sikh Community of Los Angeles '11
Hoosier Heritage Lifetime Achievement Award (Heritage Place) '11
Featured in Indianapolis Super Bowl XLVI Faces Project '12
FBI Director's Community Leadership Award '14