Lines of Distinction
The following excerpt is from an essay by Chi Sherman that originally appeared on the Sky Blue Window website. You may view the entire article.
Internationally known illustrator K.P. Singh speaks with an elegance and cadence that turn his words into a dance. His designations include artist, advocate, author and public speaker and could easily welcome storyteller. Listening to him talk about his 50-year journey from his native India to the United States feels like stepping into a Jhumpa Lahiri novel. As finely as he composes his pen-and-ink drawings of historic architecture and monuments, so does he detail a life bolstered by art and his Sikh faith.
In 1965 Singh arrived in Ann Arbor where he pursued a degree in city planning at the University of Michigan. He had already attained degrees from Punjab University and The Indian Institute of Technology, and he came to the States in to spend time abroad before settling down. Though he returned to India for a formal ceremony celebrating his first marriage, he made Indiana his home in 1967.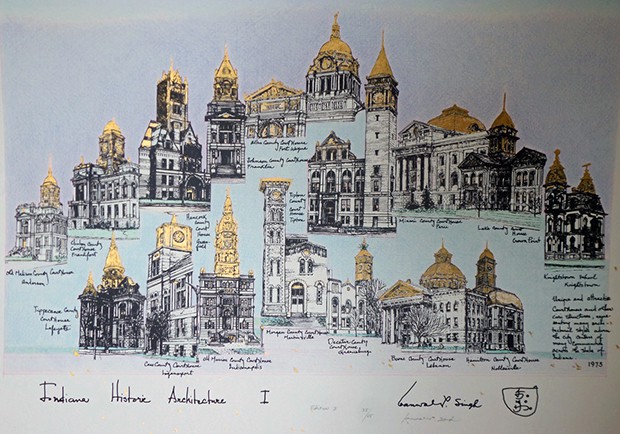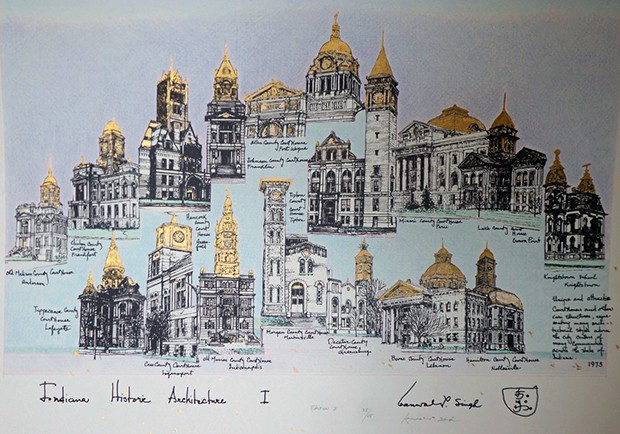 Following the completion of his degree, Singh moved to Indianapolis and joined the Department of Metropolitan Development as a senior designer and urban planner. Here he held that position from 1967 to 1972, at which point he created his own fine arts enterprise, K.P. Singh Designs. Though his training was not in art, drawing had been a component of his studies in planning and architecture in India and Michigan. His work in Indy revealed an ugly truth: A number of historic buildings were being demolished to make room for more parking lots.
"Having been surrounded by so much beauty and historic things in India, I wanted to convey as a planner and an artist that we as a civilization could not afford to destroy these landmarks," he says. "They had artistic architectural value." He explained that the buildings' facades, skylights, stained glass and designs had been inspired by other countries and cultures. "If I showed in drawings how beautiful these buildings were, it would draw attention. An image is worth a thousand words," he says.
View the entire article by Chi Sherman.
---